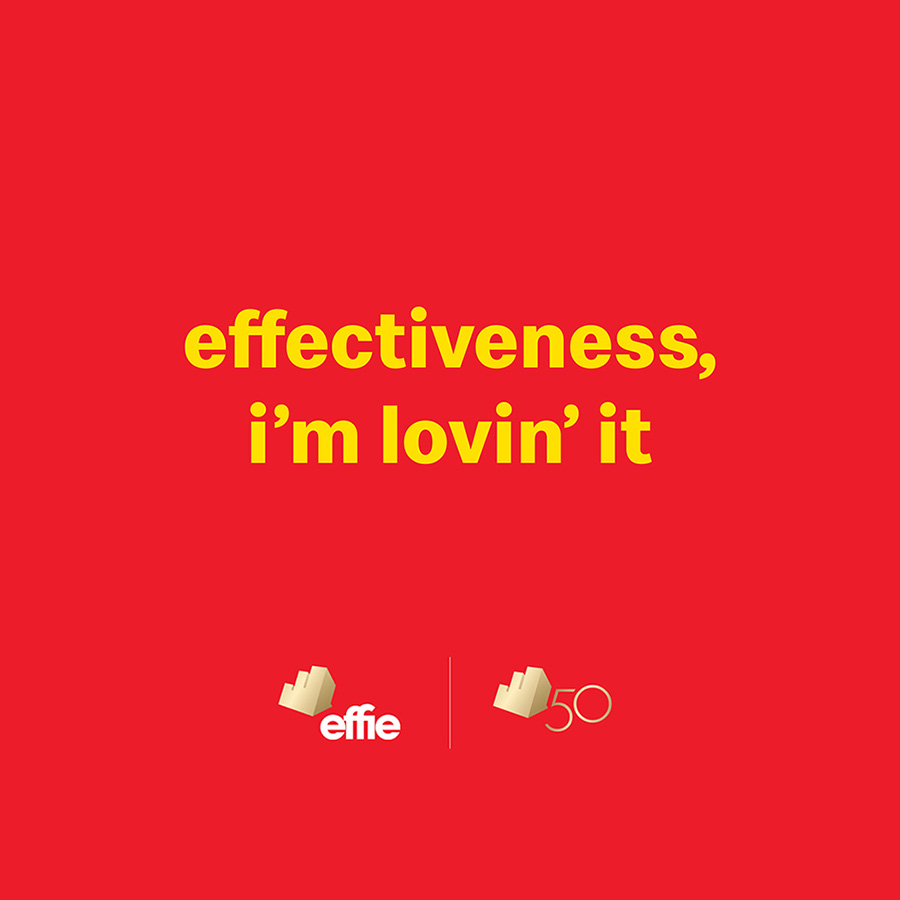 10 Jan

Effie Worldwide's 50th Anniversary With "5 For 50" Global Award

News

|

January 10, 2019

|

NEW YORK (December 12, 2018) — Effie Worldwide is celebrating its 50th year as the leading global authority on marketing effectiveness.

To mark the anniversary, Effie's 5 for 50 Award opens its global call for entries today. The award will recognize the five most consistently effective brands over the past 50 years that represents the pinnacle of sustained brand success – the most enduringly effective brands that have led the industry and inspire us all.

Effie believes effectiveness is dynamic and ever-evolving. The winners of this global award will need to have demonstrated that they most effectively adapted, stayed relevant, and sustained business success over a period of time.

"Our industry, our businesses and consumers' behaviors are changing very quickly. Now more than ever, Effie has an integral role to play in helping marketers prepare for the course ahead by leading the difficult and pragmatic conversations that we all need to be having together as marketers, agencies and media providers," said Traci Alford, President & CEO of Effie Worldwide. "Through this, it is important that we continue to celebrate and learn from the ideas that have been sustainable and delivered growth over a period of time."

Designed to inspire the quest for global marketing effectiveness, a pro bono digital call for entries campaign for "5 for 50" created by McCann Worldgroup summons the design elements and taglines of some of the most iconic Effie winners including McDonald's, Mastercard, Google, Johnnie Walker and the California Milk Processors Board. The creative celebrates how truly effective work transcends marketing and becomes part of people's everyday vernacular.

TO BE ELIGIBLE for the award, a brand must have won more than one Effie Award over more than one year and be able to demonstrate adaptation and sustained success of the brand over time. Details on how to enter are live on the Effie website, with an entry deadline period of February 6-13. More information is available at effie.org/5for50.

The Effies 50th Anniversary celebration will culminate with a Summit on May 30, 2019 in NYC. Winners of the '5 for 50' award will be recognized at the Effie Gala that evening.

Entry Deadlines: 6 February – 13 February 2019

Entry Materials are available at effie.org/5for50

If you have any questions, please email us at ww@effie.org.
If you receive any entrant questions, please direct them to email us at global@effie.org.
About Effie

Effie is a global 501c3 non-profit whose mission is to lead and evolve the forum for marketing effectiveness. Effie leads, inspires and champions the practice and practitioners of marketing effectiveness through education, awards, ever-evolving initiatives and first-class insights into marketing strategies that produce results. The organization recognizes the most effective brands, marketers and agencies, globally, regionally and locally through its 50+ award programs across the world and through its coveted effectiveness rankings, the Effie Index. Since 1968, Effie is known as global symbol of achievement, while serving as a resource to steer the future of marketing success. For more details, visit effie.org.